The British are Coming!**
** yes, we know this expression is historically inacurate...but it IS so fun to say right? The British citizens of Philadelphia, upon seeing a "Red Coat," would declare "the regulars are out" indicating King George III's regular army.
On Saturday, October 5th, following the Battle of Germantown (Revolutionary Germantown Festival), the celebration CONTINUES back at Grumblethorpe!
Join the British troops as they celebrate their victory with live music from around the neighborhood and around the globe, food, and more.
Grumblethorpe Oktoberfest in Revolutionary Germantownis a free, family friendly, community event and concert held on the grounds of Grumblethorpe. Food, beverages, and house tours are available for purchase and all proceeds benefit the preservation of the four historic houses of PhilaLandmarks.
At Oktoberfest you can have a beer with a Red Coat and party like a Patriot. Everyone is welcome!
​
​
​
Does British General Agnew's bloodstain really remain on Grumblethorpe's parlor floor? Read more here.
Grumblethorpe Oktoberfest in Revolutionary Germantown 2019 details...
THIS YEAR the British 43rd Regiment of Foot, and other reenactors will be back with us, taking over the grounds of Grumblethorpe on Friday night. There are two ways to meet and interact with these troops:
​
SATURDAY Morning, Oct 5, 2019, 8:30 AM muster followed by 9:00 AM march
Our resident occupiers will be joined by even more reenactors as they muster in front of Grumblethorpe for the march up Germantown Avenue to Cliveden to partake in The Battle! Expect to see: officers, infantry, musicians, and camp followers, with the Highlanders leading the way.
​
​
SATURDAY October 5, 2019 from 4:00 PM to 8:00 PM
Oktoberfest!
Following the Battle of Germantown (Revolutionary Germantown Festival), the celebration CONTINUES back at Grumblethorpe: great food, beer, and live music.
​
For a FULL schedule of all RFG Battle Day activities... go HERE
​
Special thanks to our sponsors!
Grumblethorpe's favorite fall party has a new name!
Whether you know it as Oktoberfest at Grumblethorpe or Grumblefest, our Battle Bash party is now the official party of the Revolutionary Germantown Festival. Whatever we call it... Grumblethorpe will STILL be the place to be at the end of Battle Day ... for continued family fun, live music, great food, beer, and more! The British troops will still be occupying Grumblethorpe as they celebrate their victory at Germantown. But it's all in good fun...and all Patriots are welcome!
The presence of our British occupiers doesn't mean we won't still be celebrating all things Grumblethorpe too!
​
For the past 20+ years Grumblethorpe has invited the public to celebrate Oktoberfest in our beautiful gardens as way of honoring the German ancestry of John Wister and his family. It has been a chance to open up our doors to our neighbors so we can share all the great people and programming at Grumblethorpe.
​
We have had upwards of 800 people visit us during Grumblethorpe's American Oktoberfest and Grumblefest 2016. Click here to see photos of past years.
Not familiar with the Battle of Germantown? Really?
Click on the logos below for even more info!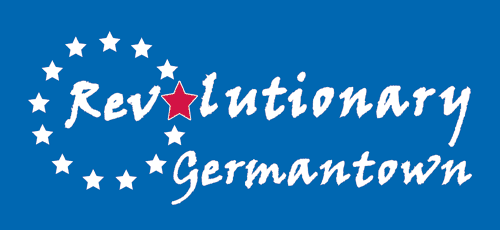 For further information on the 43rd Regiment of Foot click HERE
Please note: Oktoberfest events are FREE and open to the public. We open our doors and share the magical grounds of Grumblethorpe with upwards of 800 visitors. This is our most important "friend-raiser" of the year. While admission is free, we do sell food, beer, and house tours. This is an important means to raise funds for the ongoing upkeep and programming provided at Grumblethorpe year round. Click on GEEP and GYV to learn more.
Meeting the troops at morning muster 2016